What Types of Corporate Events Need Staging for Audio-Visuals?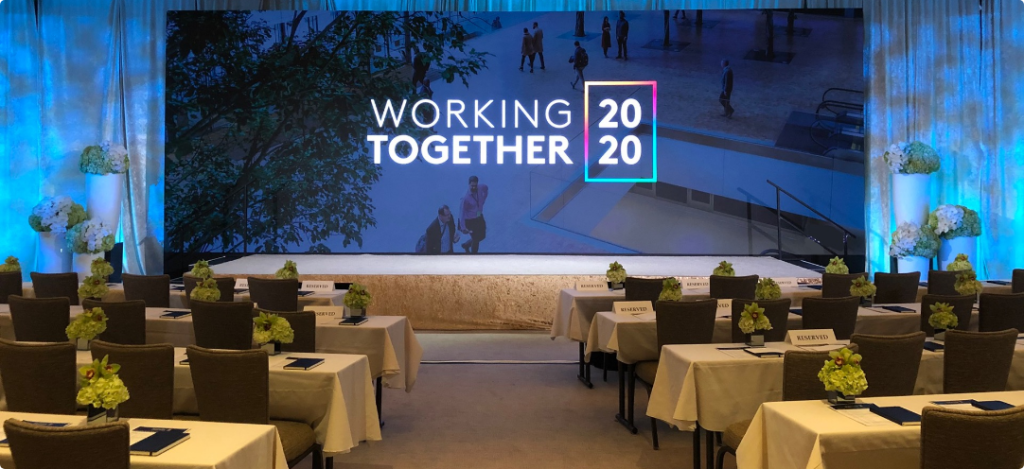 In the realm of corporate events, audio-visual staging is a powerful tool to engage your audience, making the experience more memorable and ensuring that your message is effectively communicated. As Showorks Audio-Visual, we've helped numerous events in cities all across the country amplify their impact through our staging services.
Corporate Events that Benefit from Our Audio and Visual Staging
Our audio-visual staging services can be leveraged for a multitude of corporate events to create memorable experiences:
Conferences
We recognize that conferences are opportunities to share information and ideas with a large audience. Our audio-visual staging services can transform presentations, making them more engaging and understandable.
Trade Shows
At trade shows, your aim is to showcase products or services to potential customers. Our audio-visual staging can elevate your booth's visual appeal, making it more engaging for attendees.
Product Launches
Product launches are about creating excitement around a new offering. Our innovative audio-visual staging techniques can amplify the atmosphere and make the event unforgettable.
Awards Ceremonies
During awards ceremonies, you honor the achievements of your employees or customers. We can help you create a celebratory and festive mood with our expert audio-visual staging.
Employee Appreciation Events
During employee appreciation events, you express gratitude for your team's hard work. We can help make these events more enjoyable and engaging with our staging services.
Advantages of Our Audio-Visual Staging in Corporate Events
Leveraging our audio and visual staging for your corporate events offers several benefits:
Increased Engagement
We can help maintain your guests' interest and ensure they retain your message by making your event visually appealing and stimulating.
Enhanced Communication
Our sophisticated audio-visual staging services can convey your message more effectively, especially when dealing with complex information or large audiences.
Creation of a Memorable Experience
Showorks Audio-Visual staging can help shape a memorable event experience, which will strengthen your brand image and increase the likelihood of event success.
Key Considerations for Incorporating Audio-Visual Staging
When considering our audio and visual staging services for your next event, please consider the following:
Budget
High-quality staging involves costs, and it's important to factor this into your event budget. Showorks Audio-Visual offer various packages to meet a range of budgets.
Logistics
Ensuring the right equipment is available and correctly set up is crucial. We manage all these details as part of our comprehensive services.
Our Expertise
At Showorks Audio-Visual, we offer an extensive range of services, including sound and lighting design, stage design and setup, event production and management, live streaming, video production, and equipment rental. Our experience and expertise guarantee your event's success. For more information on the services we provide, please visit our website at Showorks Audio-Visual.
By choosing Showorks Audio-Visual, you ensure your next corporate event, whether in Philadelphia, Delaware, or elsewhere, will benefit from effective and impressive audio and visual staging.